Hello people who arent me  we  have the Duelist Alliance sneak peek with the official release on August 15. This is one of the few booster packs that will have an enormous impact on the Yu-Gi-Oh! meta game. From the ever consistent Shadolls to the highly floatable Yang Zing wyrms it seems that theres a lot to take in. So of course card prices are going to be zooming or crashing left and right. I've taken the liberty to at least put out some cards to consider for side decking. So, without further ado let us begin.
Card #1 Royal Command
Enlarge this image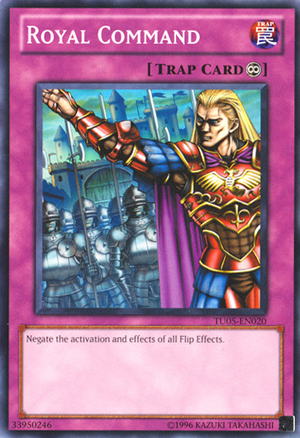 I have never heard or seen this card until I looked up some continuous trap cards. This is basically Royal Decree for flip effects. While it does not negate the graveyard effect of Shadolls it does, at the very least, negate their flip effects which adds their consistency. Take that away and your opponent is forced to use the grave or hope he or she has an MST. 
Card #2 Non-Fusion Area
Enlarge this image
I remember a time when I received a bunch of Elemental Energy booster packs when I was eight. (I was a huge fan of Yu-Gi-Oh when I was small, but did not know what "Meta" meant. So I collected) And one of the cards I received was Non-Fusion Area. I didn't think much of it, but now it's 9 years later and it's come back into my mind. Once again, Shadolls also get their power from fusions ranging from the ever lovable Midrash to Nephilim (TCG name is subject to change). So just use this card and make your opponent hope he or she has that MST. 
Card #3 Light of Intervention
Enlarge this image
That poor monster card. That's what Shadolls will go through once this classic trap is placed. Man do I hate Shadolls. (Disclaimer: Not really. These cards hate them not me.) If they can't set, they can't activate their flips. But who says it's good for just Shadolls? (Not me). In general monsters are always set for a good set-up. What's that you have a Ryko? Well then hope you don't mind the bright light shining through. 
...Though you could always just use Nobleman of Crossout...... -_-
Enlarge this image
Card #4 Calming magic
Enlarge this image
Finally a spell card! Though, I'm not too sure on the versatility of this card. Yang Zing monsters i suppose won't activate their effects when destroyed cause of it, but you can't special either. It could be a double-edged sword depending on the situation, but maybe I'm overthinking it. If anyone can cover it in depth feel free to. I probably won't.
Card #5 Corridor of Agony
Enlarge this image
Do you hate HATS? Hate when that Moralltach comes in to ruin your day? Never fear for The Corridor of Agony is here! (Paradox brothers would be proud of me 

 ) This little card basically says screw you to mostly Morraltach, but can be useful in some occasions. (Occasions I'm too lazy to list) But other than that it's versatility ends there. Just a card to talk about thats all.
Card #6 Diffusion Wave-Motion
Enlarge this image
This card is High Priestess's way to screw Hands, Yang Zing, and Shadolls. I'm sure there are other level 7 spell casters but Priestess is one of the few that are easy to get out. Guess that means Spellbooks can reign supreme? (Hehehe) 
written by youngx



Similar topics
---
Permissions in this forum:
You
cannot
reply to topics in this forum